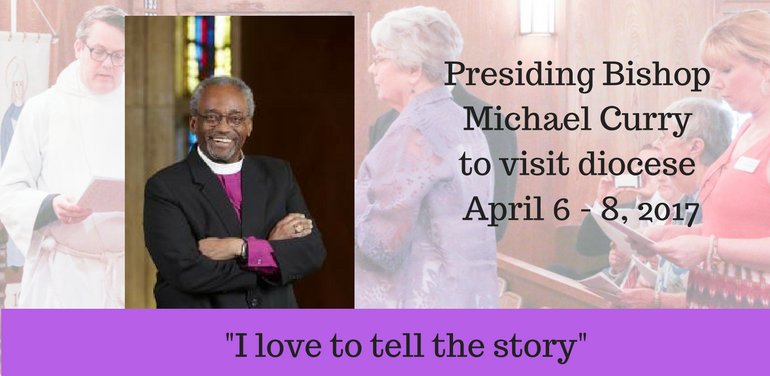 Presiding Bishop Michael Curry to visit diocese April 6-8, 2017
The Most Rev. Michael Curry, presiding bishop of The Episcopal Church, will visit the Episcopal Diocese of Fort Worth Thursday, April 6, through Saturday, April 8. Bishop Curry calls himself the chief evangelist of The Episcopal Church, and he will bring that emphasis with him.
"I Love to Tell the Story" is the theme of the visit. It is taken from the hymn written as a poem by an English Anglican evangelist, Arabella Katherine Hankey, in 1866 and set to music by American William G. Fischer. The hymn is in the first person singular, making it a personal statement of faith, adding to its power. The hymn is in one of the Episcopal hymnals, "Lift Every Voice and Sing."
The refrain is probably the most familiar:
"I love to tell the story, 'twill be my theme in glory,

To tell the old, old story of Jesus and His love."
Bishop Curry will be accompanied by the Rev. Canon Michael Hunn, canon to the presiding bishop for ministry within The Episcopal Church.
Thursday, April 6: presiding bishop to visit Parker County, refugee ministries
Bishop Curry will tour Parker County and take a look from afar at the scale of Walsh, the new community being built on the site of the Walsh Ranch west of Fort Worth (it's not open to the public yet). Parker County is the site of a new church plant being funded in part by a grant from The Episcopal Church. No specific location for the church plant has yet been selected. As part of the morning's activities, Bishop Curry will bless the endeavor and formally commission the church planting team.
Following lunch in Weatherford, and some down time for the presiding bishop and his staff, Bishop Curry will visit Refugee Services of Texas in Fort Worth, where he will meet some refugee families being aided by Episcopal congregations, visit with RST staff, and meet the Episcopalians volunteering in an English as a Second Language program.
Read about the presiding bishop's Thursday activities here.
Friday, April 7, daytime: "Learning to Love Telling My Story" gathering
On Friday, April 7, everyone is invited to  "Learning to Love Telling My Story" a gathering from 9 am to 4:30 pm at St. Christopher Episcopal Church in Fort Worth. It will begin with Morning Prayer with bishops Curry and Scott Mayer. Following a break, Bishop Curry and Canon Hunn will take part in separate conversations with clergy and laity, with each man spending time with both groups.
After lunch, there will be a presentation from 1:30 to 2:30 pm by Ms. Kathy Culmer, a professional storyteller who will give pointers in how to tell one's personal faith story with integrity and brevity. Culmer is the director of religious education at St. James, Houston. She is pursuing her Doctor of Ministry degree from the United Theological Seminary in Dayton, Ohio. She is a graduate of Spelman College and the University of South Florida. She is an author, storyteller, teacher, and retreat leader. Kathy has been a workshop presenter at the National Storytelling Conference, the National Christian Education Conference for the Episcopal Church, National Conference for the Episcopal Church Women, National Episcopal Youth Event, as well as part of a biblical storytelling mission trip to Gambia in West Africa.
Following her presentation, participants will take part in an experiential workshop from 3 to 4:30 pm that will give them opportunities to craft and share their stories.
Registration is $20 for Friday's activities and includes lunch.
St. Christopher Episcopal Church
3550 SW Loop 820, Fort Worth, TX 76133
Map to St. Christopher
Join Bishop Curry and all our bishops as our diocese kicks off the "New Life Fund: Growing in New Ways" campaign at a 6 pm dinner on Friday, April 7, at Colonial Country Club.
The New Life Fund: Growing in New Ways campaign will raise $200,000 over a two-year-period in matching funds for the $600,000 in grant money from The Episcopal Church. Learn more about the goals of this fund, get a general admission ticket or a reserved seat at a bishop's table, or make a contribution to this fund here: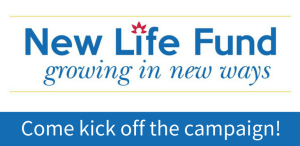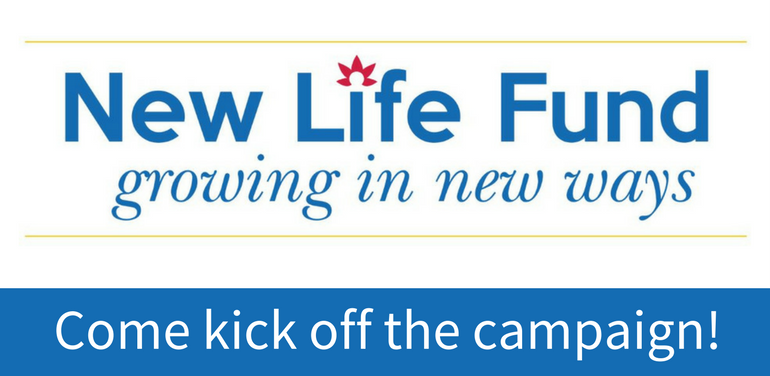 Saturday, April 8: Holy Eucharist at University Christian Church
On Saturday, April 8, there will be a Eucharist at 11 am at University Christian Church. Bishop Curry will lead the worship service and preach.
Bishop Curry and Bishop Mayer will leave shortly after the service for a visit with the Episcopal Diocese of Northwest Texas.
University Christian Church
2720 S. University Drive, Fort Worth, TX 76109
Map to University Christian Church
UPDATES: this story was updated to include details of Friday, April 7 activities and Thursday, April 6 activities.