All are invited to join the Most Rev. Michael Curry, presiding bishop of The Episcopal Church, for a dinner launching the New Life Fund: Growing in New Ways fundraising campaign at 6 pm Friday, April 7, at Colonial Country Club (Map below). Free valet parking will be available at the front door of the club.
The New Life Fund: Growing in New Ways campaign will raise $200,000 over a two-year-period in matching funds for the $600,000 in grant money from The Episcopal Church. This graphic explains the flow of funds: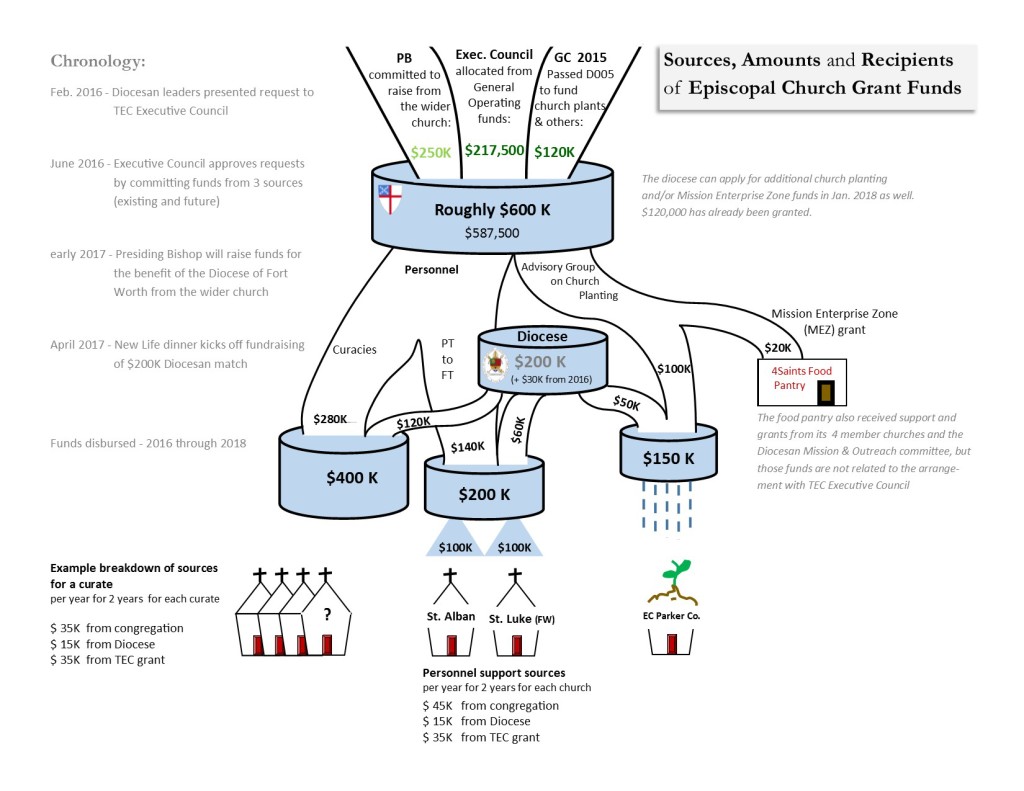 Campaign co-chairs are Mr. John Banks, a member of All Saints', Fort Worth and chair of the diocesan Finance Committee; and the Rev. Jim Hazel, retired priest of the diocese and president of the Corporation. Honorary campaign chairs are Assisting Bishops Rayford B. High, Jr. and Sam Hulsey.
This money will be used to invest in people – clergy and lay leadership – as we plant churches, train new clergy through curacy programs and support congregational growth and outreach such as the 4Saints Episcopal Food Pantry.
Registration for this event has now closed.
Pledges
Cards outlining the pledge you and/or your family will be able to make over the two-year period of this campaign will be available at the dinner. Some people are planning to give half in 2017 and half in 2018. Others may want to frontload their pledge, giving the bulk in 2017 and the remainder in 2018. Others will want to give the entirety of their pledge at once.  Whatever you decide to give to the New Life Campaign, please do so in the context of prayer.
For the Right Use of God's Gifts
Almighty God, whose loving hand hath given us all that we possess: Grant us grace that we may honor thee with our substance, and, remembering the account which we must one day give, may be faithful stewards of thy bounty, through Jesus Christ our Lord. Amen.
If you cannot attend the dinner, you can contribute online here.
Bishops' Tables
The seven tickets for the table hosted by Presiding Bishop Curry are $400 each. Tickets for the three tables hosted by Bishop Scott Mayer and Assisting Bishops Rayford High and Sam Hulsey are $200 each. These tickets are limited in number. Please contact Michele King at michele.king@edfw.org or 817-534-1900 to purchase tickets at the Bishops' Tables.
Read more about Presiding Bishop Curry's visit to the diocese.