The Rt. Rev. J. Scott Mayer has announced that he, with the support of the Standing Committee, has asked the Rt. Rev. Rayford B. High, Jr. and the Rt. Rev. Sam B. Hulsey to serve as assisting bishops in the diocese and they have accepted.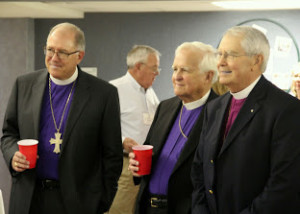 An assisting bishop is a bishop appointed by the diocesan bishop to provide short-term assistance with episcopal duties in the diocese. As assisting bishops, High and Hulsey will work at the direction of Mayer, who, as provisional bishop, has the authority of a diocesan bishop.
"I am so pleased Sam and Rayford have agreed to serve as assisting bishops. Their presence will help ensure that no pastoral or episcopal needs go unmet. We are simply formalizing what they are doing already. And given their beloved status in the diocese, I am confident that this news will be received with great joy," said Mayer when announcing the appointments.
Both Hulsey and High expressed their pleasure at the appointments. Both already have been helping out from time to time in the diocese when requested by Mayer.This will continue in a more formalized way, with all business with the bishops being conducted through the diocesan office. The customary is being adapted to reflect the presence of the assisting bishops.
High retired as bishop suffragan of the Episcopal Diocese of Texas in the spring of 2012. He and his wife Pat built a home in Fort Worth to be near their children and grandchildren. He was elected as the third provisional of the diocese at the 30th Diocesan Convention in November, 2012. He retired from that position on June 30, 2015, following the election of Mayer as the fourth provisional bishop.
Hulsey retired as bishop of the Episcopal Diocese of Northwest Texas in 1997 and moved back to Fort Worth, his hometown. In 2015, the Rt. Rev. Sam B. Hulsey Chair in Episcopal Studies at Brite Divinity School at Texas Christian University  was established in his honor.