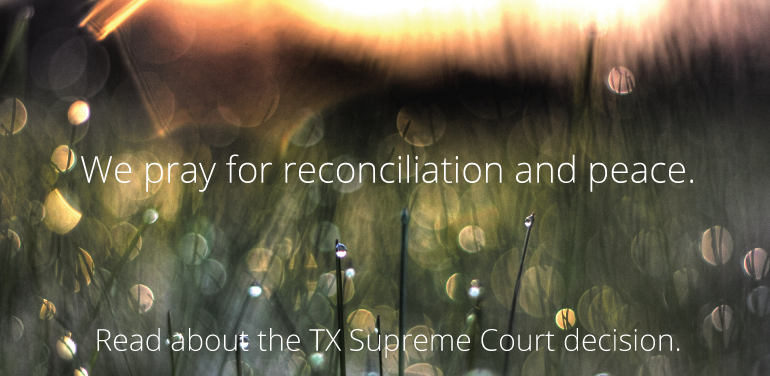 Episcopalians react to Texas Supreme Court opinion
The Rt. Rev. Rayford B. High, Jr., bishop of Fort Worth; the Standing Committee, and the Board of Trustees of the Corporation of the Episcopal Diocese of Fort Worth are disappointed by the August 30, 2013 opinion of the Texas Supreme Court that failed to uphold the summary judgment of the 141st District Court, Tarrant County, Texas. That judgment granted the Local Episcopal Parties' and The Episcopal Church's Motions for Summary Judgments. The Texas Supreme Court's opinion is here  and the dissenting opinion is here.
Bishop High has issued a letter to the diocese that can be seen here. When we have more thoroughly reviewed the opinion, the Diocese of Fort Worth may issue further statements. In the meantime we hold all Episcopalians in our prayers as well as former Bishop Iker and his colleagues, and we bid your prayers as we move forward.
For more information:
Katie Sherrod
Communications Director
Episcopal Diocese of Fort Worth
katie.sherrod@edfw.org
817-909-0070
Read or download the Texas Supreme Court's opinion
Read or download the Texas Supreme Court's dissenting opinion