2016 Nominees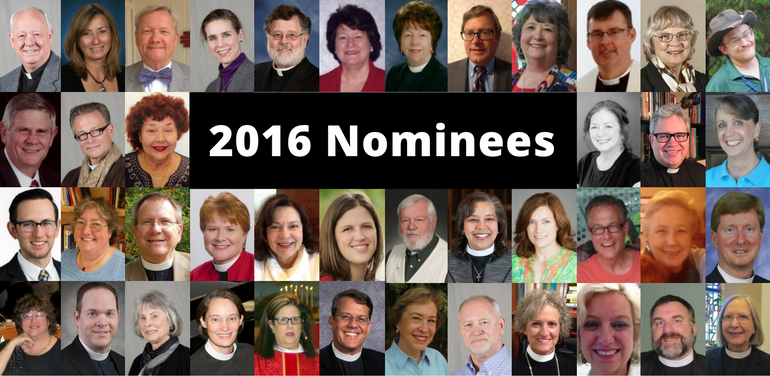 Open each position below to view a description of the position and the names of the nominees. Click on names in blue to read biographies of the nominees. Links to the bios are added as nominees submit their information.
Please let us know if you believe any names are missing from this list who where nominated before the deadline. We discovered that, during the first couple of weeks the nominations were open, an item on the original form that was intended to prevent spam messages was also making it difficult for some to successfully submit the form. Email the committee at nominations.committee@edfw.org, or call the diocesan office at 817-534-1900.
What if I missed the deadline?Requirements
Nominations closed Monday, September 12. Any nominations after the closing date may be made from the floor at diocesan convention. Nominations from the floor will follow all the requirements for candidates. To nominate someone from the floor, bring copies of the nominees' picture and biographical information for all clergy and convention delegates, plus verification of qualifications to present to the
Nominations Committee
. The requirements for nominations from the floor of convention are in Canon I.2.8.2.5 "Nominations from the Floor," which can be found in the
Canons of the Episcopal Diocese of Fort Worth
 and in the next tab.
Canon I.2.8.2.5 – Nominations From The Floor
"At the meeting of the Diocesan Convention additional nominations may be made from the floor of the Diocesan Convention after the Nomination Committee's report has been presented. However, no such nomination from the floor may be made while a vote is being taken, counted, or announced.  Persons making nominations from the floor must provide a sufficient number of copies of same written information required for the proposed candidacy of the Elected Position in order for each Member and the Chancellor and Parliamentarian to have a copy. This documentation requirement may be waived only by unanimous consent of the Diocesan Convention."
General Requirements for Nominees
In all cases, a nominee must
Be at least 18 years of age
Meet qualifications to hold office nominated
Be willing to stand for election and willing to serve if elected
Acknowledge fiduciary duty under The Episcopal Church Canon I.17.8: "Any person accepting any office in this Church shall well and faithfully perform the duties of that office in accordance with the Constitution and Canons of this Church and of the Diocese in which the office is being exercised."
Pledge to read the Constitution & Canons of The Episcopal Church and to give faithful performance to duties in accordance with the same
Be willing to perform the duties of elected office (i.e., attend all meetings, share responsibility of work, etc.)
Provide a brief bio and head shot photo
Verify membership in the diocese by the following:

Laity – Adult communicant in good standing of a parish within the Diocese of Fort Worth, for approximately one year
Clergy – Canonically resident in the Diocese of Fort Worth