Pets are a blessing to their owners. On Saturday, October 12, some of these pets will have the favor returned.
Following the October 4 feast day of St. Francis of Assisi, the patron of animals and ecology, the Rev. Melanie Wright of St. Alban's Episcopal Church meeting in Theater Arlington, will bless animals 8:30 am to 1:30 pm Saturday, October 12, 2013, at the Paws in the Park event at the Elm Grove Pavilion in River Legacy Park, 703 N.W. Oaks Blvd, Arlington, TX, 76006.
The Blessing of the Animals is an Episcopal tradition and this event provides an opportunity to bless many pets in our community.
Along with the Blessing of the Animals, Paws in the Park will include a Fun Walk/5k Run, low cost vaccinations, low-cost micro chipping, bounce houses, kids games, dog games, face painting, balloon animals (made by St. Alban's own Aidan Wright), and some yummy food from local restaurants who will be bringing in their mobile trucks for the occasion. Register online or at River Legacy for a slightly higher fee. Online registration closes Friday, October 11.
All creatures great and small, furry or feathered or scaled and their owners are welcome, rain or shine.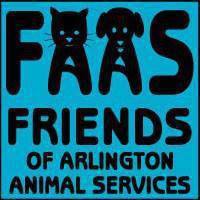 Paws in the Park is the major annual fundraiser for Friends of Arlington Animal Services (FAAS). FAAS is a group of volunteers who assist Arlington's animal shelter in developing programs to decrease the euthanasia rate and increase the adoption rate of Arlington's homeless animals. Educating the public and making them aware of issues and needs play an important role in FAAS's mission. FAAS provides funding for items that the City of Arlington does not include in their budget and assists with special needs cases, including transport to rescues or special medical and surgical care. Many FAAS members also work with rescue groups and foster animals that are in danger of being euthanized. Many members of St. Alban's have adopted homeless animals via FAAS. To volunteer, foster, or adopt, contact Franceen Lyons at St. Alban's.